Photo Credit: 123RF | @galitskya
Tired of WFH? Then Why Not WFBH (Work From a Beach Hotel)?
Published January 6, 2023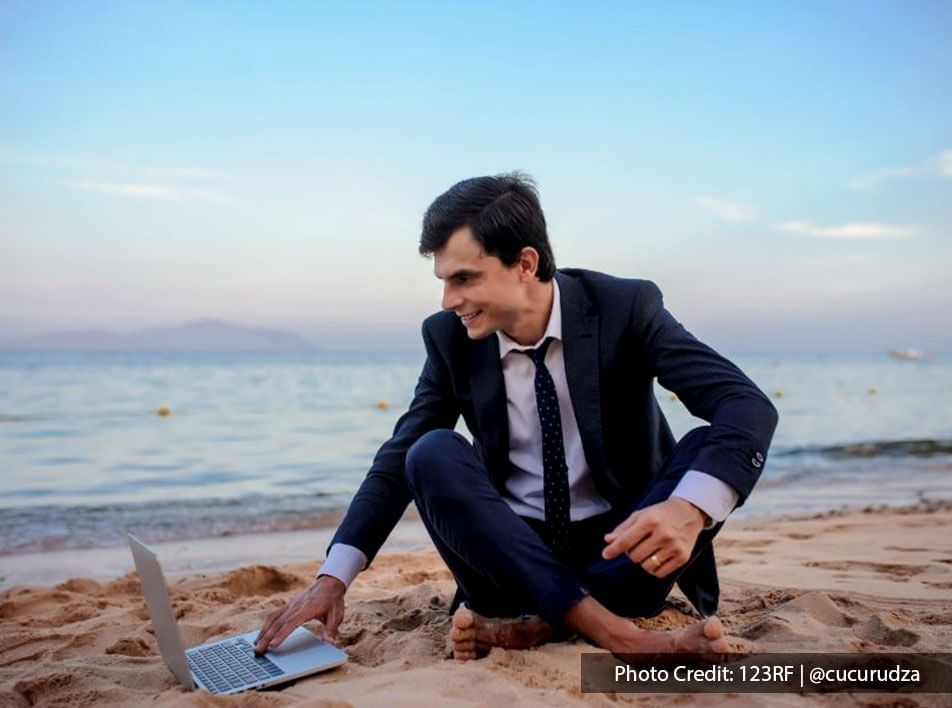 To work from home (WFH) used to be the ultimate dream scenario – no more daily commute, pants became optional, goodbye long bathroom/elevator lines and hello work-life balance! But since the pandemic hit, remote working has become a necessary practice for many companies and organizations as a measure to mitigate the spread of COVID-19.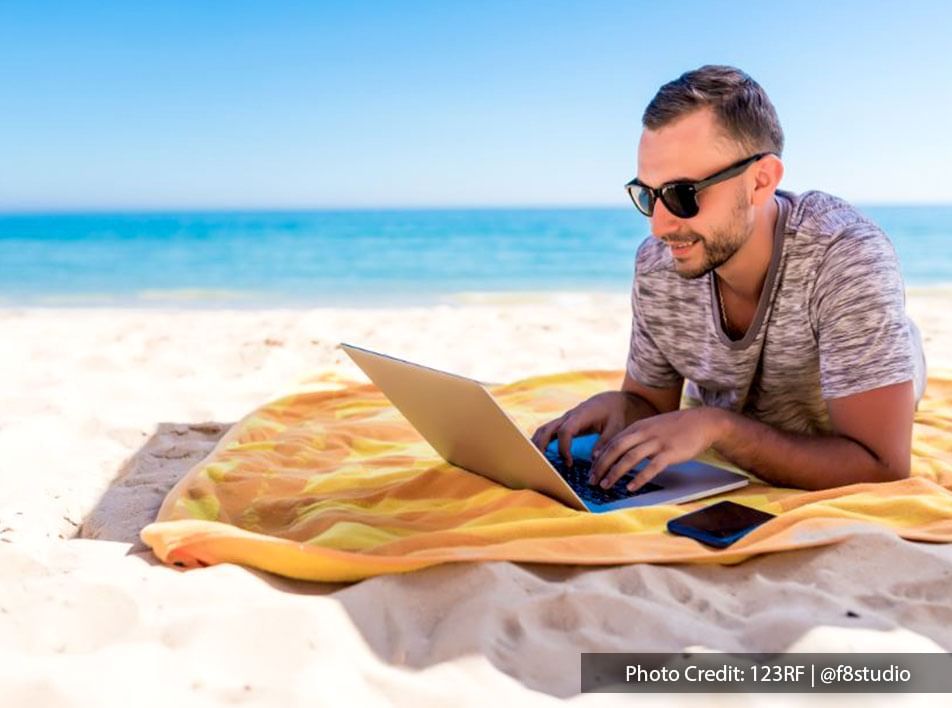 Millions of employees are forced to retreat to working from home for months and months of the lockdown period, resorting to using their living rooms, bedrooms and kitchens as makeshift offices. Privacy is jeopardized and personal space became a thing of the past as we share our homes digitally with co-workers and business associates. Lack of free and quiet spaces at home attributed to family members, pets or people whom we share a living arrangement with making cameos and become background noises in our Zoom meetings. Unstable or low-bandwidth internet connection leads to frozen screens, crummy audio and video quality, important bits and chunks of meetings missed, and eventually Zoom fatigue.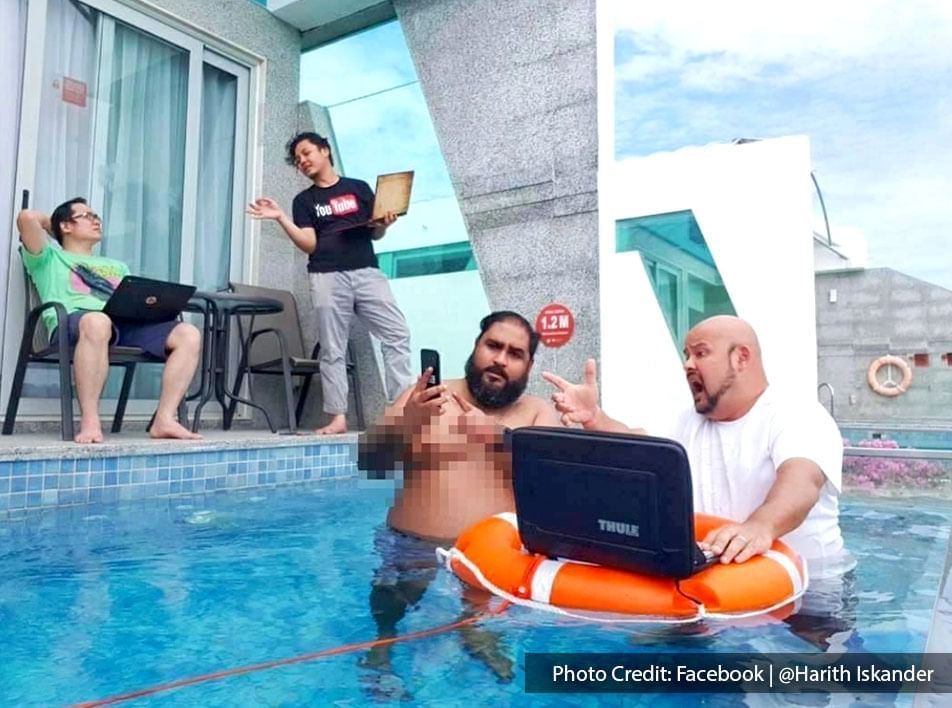 When working from home starts to drain you and diminish productivity, then a change of scenery to a place with plenty of privacy for you to focus on work without any distractions, enough space and bandwidth for your zoom meetings to go smoothly, plus great scenery and fresh air to keep you inspired and motivated would most certainly do wonders for your overall work quality and performance.

If that sounds like the perfect extra boost for you then why not give working from a hotel a go, or better yet, working from a beach hotel! Because what's there not to like when you get to combine working and traveling, and enjoy the best of both worlds. Taking cues from the "workcation", the working and traveling trend that is currently sweeping the world, Lexis Hotels & Resorts has put together 5 irrefutable reasons why checking into one of our resorts to work from hotel will give your work-life balance the boost that it needs right now! Keep reading to find out how working from our hotels can benefit you!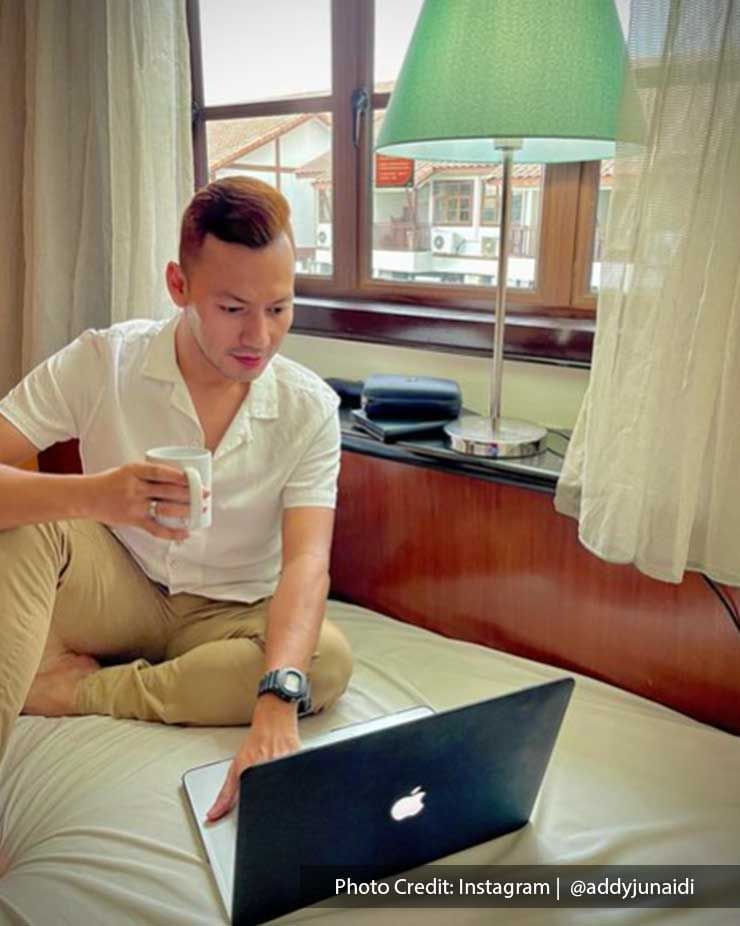 1. Positive Changes
Changes, even the most minor ones, can drastically improve business productivity and work efficiency. One of the best pieces of advice that anyone can give you is to do your heavy lifting when you're at your best, and we're most certainly at our best, mentally and physically, when we're working and traveling at the same time, especially from the conducive environment of a beach resort! The change of air, change of pace and change of scenery you get from working from a hotel would do wonders in keeping you driven and motivated, or even getting you out of a creative slump!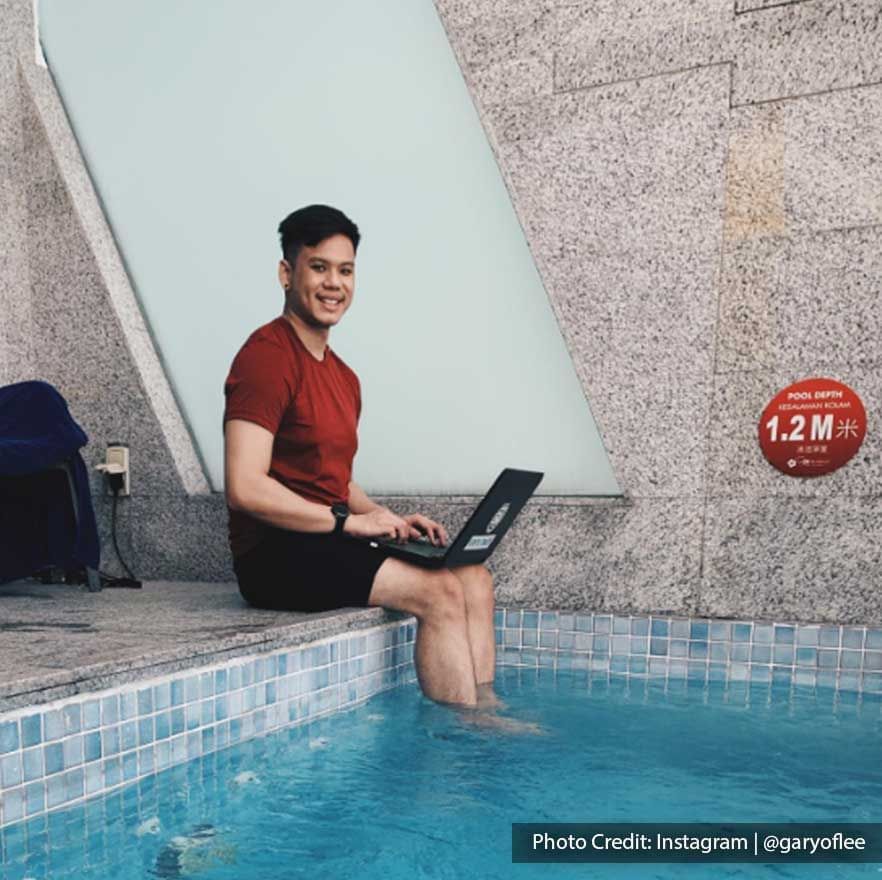 2. More Work-life Balance

On the face of it, WFH may seem to allow for more time at home, thus enhances work-life balance. Yet on the contrary, keeping everything in equilibrium isn't as simple as 1+1=2 to navigate. Constantly working in the same space as where your private life takes place somehow blurs the line between the two, it's also easier to lose track of time as you may need to constantly stay online to accommodate the varying schedules and needs of others. You may find yourself working and answering emails long past working hours, or replying work texts or calls during family time on weekends. Working without a clear cut-off time will easily lead to burnouts.

On the other hand, working from a hotel would entice you to take more breaks or cut yourself off from work on time, as there'll be plenty of other leisure and recreational activities that you'd rather be doing after working hours, especially if you're working from a beach hotel!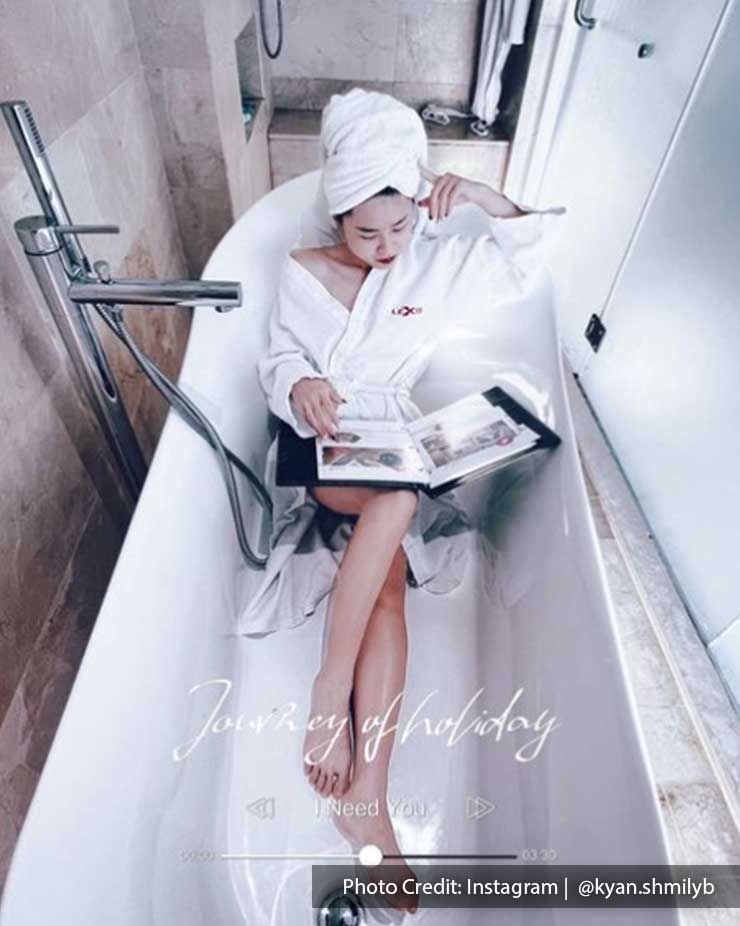 3. Bust Stress and Anxiety
Year after year of trying to survive a pandemic has definitely taken its toll on us. With more and more people suffering from mental health issues, it is now more crucial than ever to do what we can to cultivate a work culture that would contribute to a healthier and more productive workforce.

Taking some time away from the new normal by combining working and traveling might just be exactly what the doctor prescribed to bust all that build-up stress and anxiety to turn your frown into a smile! Working from a beach hotel is guaranteed to be a refreshing experience as it removes the constrictive four walls that confine you, granting you the freedom to immerse yourself in nature.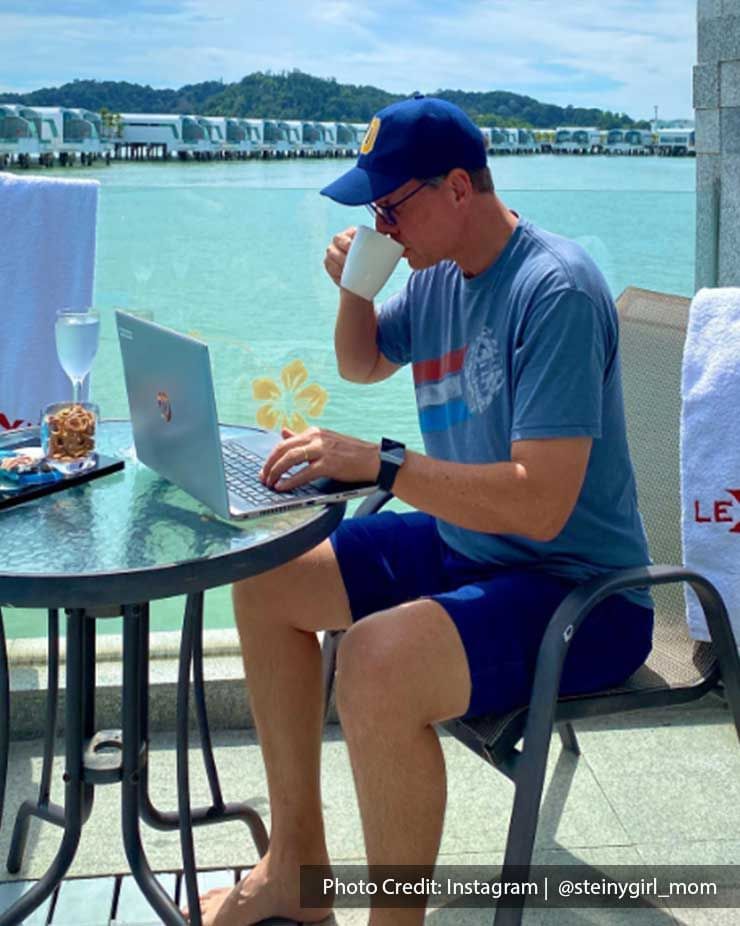 4. Quality Time with Loved Ones
As the pandemic has forced us and our families to retreat into the safety and isolation of home for an extended period of time, our homes have turned into temporary offices and classrooms instead of the sanctuaries that they used to be. So although we're more physically present in the sense that we're spending more time with our loved ones at home, we often may not realize that we prone to be mentally/psychologically absent as we're preoccupied with endless daily rigmaroles and other environmental stressors that distract us from actually bonding with each other like how we used to.

Working from a hotel can bring forth a paradigm shift that will foster a closer bond between us and our loved ones through the sharing of quality time together. Try working from our beach hotel while bringing your family along, there's plenty of room for you to create a conducive workspace or virtual classroom in our rooms and when you're done, put on some sunblock and head out to enjoy the amenities available to your family. Doesn't that sound like the perfect mix of working and traveling for your whole family?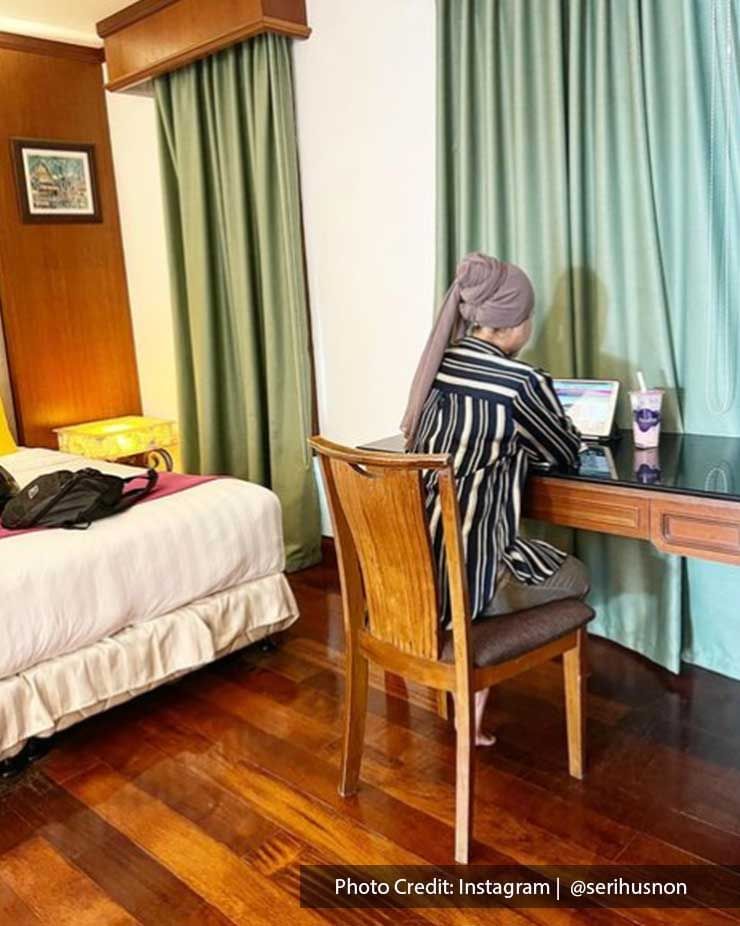 5. More Time for Rest and Play
One of the most frustrating things about working from home instead of a hotel is the extra cleaning and tidying up that is required to ensure that you and your loved ones continue to have a clean and healthy living environment; especially when everyone is spending so much more time at home, there's simply more people to pick up after and feed 24/7!

Which is exactly why having housekeeping and laundry services is another solid reason to work from our beach hotels. Absolutely nothing will free up your mind quite like a squeaky-clean room and piles after piles of freshly washed laundry that you don't even have to fold yourself! Plus, having a clean, organised workspace is key to always being at your best and staying on top of business while working and traveling!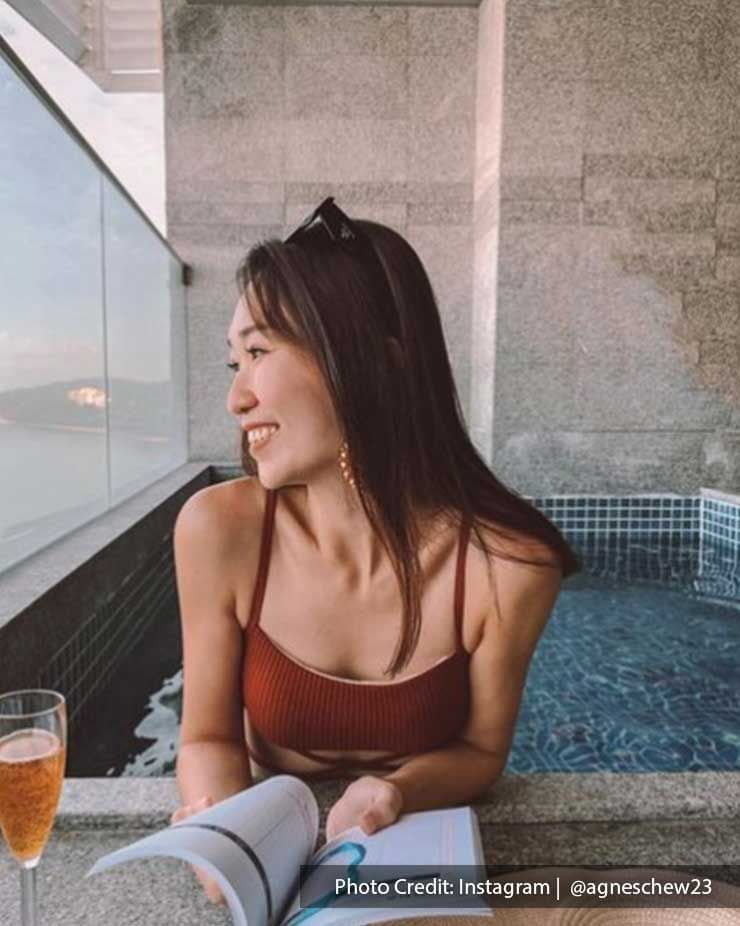 Don't forget the complimentary breakfast buffet with free flow of coffee to fuel you up every morning before you start taking over the world. And if you get peckish halfway through your zoom meeting, room service is just one dial away if you're working from a hotel. When you're done, you and the whole fam-bam can then head out to enjoy the myriad of mouth-watering offerings that our on-site restaurants and F&B outlets have prepared specially for you while you're working from our hotels.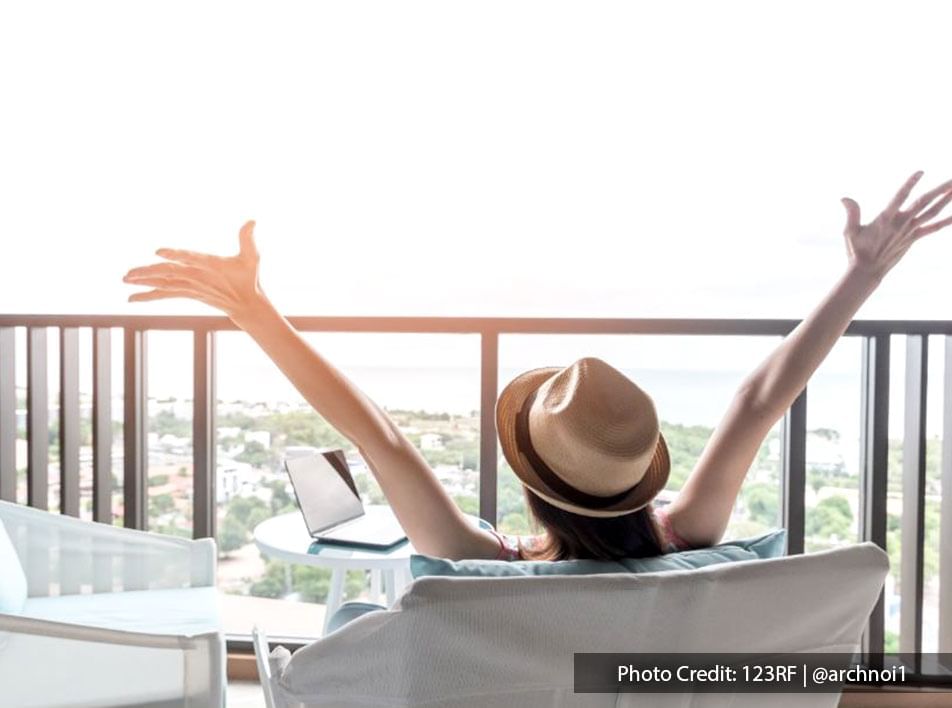 So if all the cold, hard facts that we've laid out above made your toes tingle and you're already picturing yourself working and travelling at the same time while working from the beach, then check in to one of our amazing beach and oceanfront resorts ASAP!