World-Class Achievements by Lexis Hibiscus Port Dickson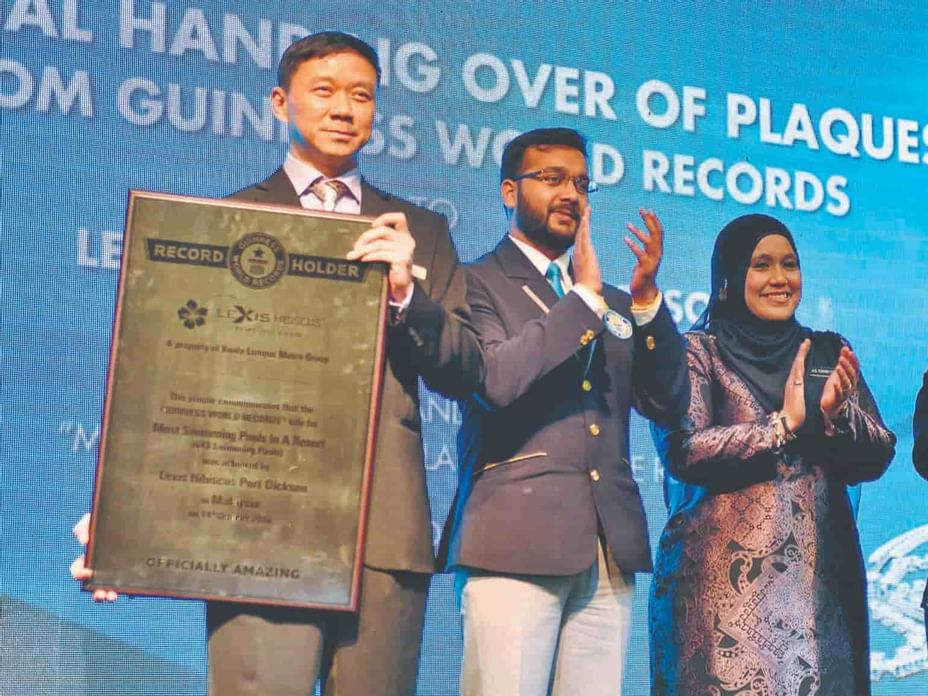 Lexis Hibiscus Port Dickson is now the official proud record holder of Guinness World Records for achieving "The most swimming pools in a resort at 643" and "The most overwater villas in single resort at 522". These records were determined by a research which was verified on 14 October 2016.
In a recent ceremony witnessed by Deputy Minister of Culture and Tourism YB Datuk Mas Ermieyati Samsudin representing Tourism and Culture Minister YB Dato' Seri Mohamed Nazri b Abdul Aziz and amongst other high-profile guests, the event saw Mr Swapnil Dangarikar, representative from Guinness World Records handing over the two plaques to YBhg Dato' Low Tak Fatt, managing director of Kuala Lumpur Metro Group, owner of Lexis Hibiscus Port Dickson and Ms Mandy Chew Siok Cheng, President of Lexis Hotel Group, the operator of Lexis Hibiscus Port Dickson.
In reading the minister's speech, YB Datuk Mas Ermieyati said it was a proud achievement for the country to have obtained the accolades from a prestigious institution, known for its documentation of record breaking feats.
"A rather lengthy process had to take place whereby an accredited consultant had to be engaged to study the attempt and comparison made with other such similar developments around the world. Not many people can boast of such achievements and I therefore encourage more Malaysians, whether as individuals or corporate companies, to emulate Lexis Hibiscus Port Dickson. This will definitely help to put Malaysia in a positive spotlight and at par with the rest of the world."